News
Latest updates from the campaign:
October 7, 2017 Monte Gore for Sheriff campaign announcement at the old courthouse in Fairplay.
Monday, June 4, 2018 10:19 AM
Press Release, June 1, 2018 Monte Gore Statement on Resignation as Undersheriff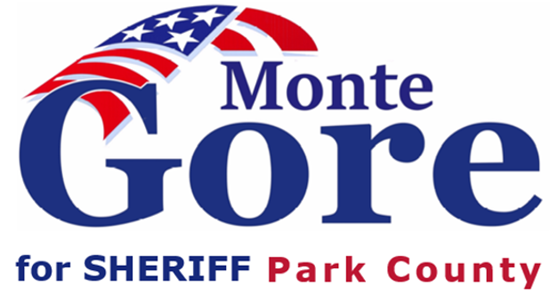 Press Release
June 1, 2018
Monte Gore Statement
Fairplay, Colorado

Park County Sheriff's Office distributed a public statement on March 13, 2018. That statement violated the non-disclosure agreement with Park County, which had previously prevented me from speaking publicly about my separation and departure from the Sheriff's Office. I have honored my agreement to confidentiality even while being the subject of wild speculation and negative commentary.
Thank you for your confidence while I have been unable to speak freely. I am honored that your knowledge of my character and reputation caused many of you to question the false reports made about me to the press. I am honored that two years ago, Park County quickly and publicly acknowledged the reports were false (https://cbsdenver.files.wordpress.com/2016/04/gore-release.pdf). I am honored that so many have believed in me. I have made full and complete statements in confidential private depositions, but I am still prevented from speaking about the Wirth eviction incident due to a confidentiality agreement with the County.
Leaving the Sheriff's Office was one of the hardest things I have had to do. Due to inaccurate statements made and the hostile work environment that ensued, I chose to take a severance settlement offered by the County, instead of filing a lawsuit. I chose to walk away from my position as Undersheriff rather than continue to serve under a man who I could no longer support. I am sorry that no amount of protocol, training, advice, or common sense was able to overcome the decision to "cowboy-it" on the day of the eviction.
I was in communications in Fairplay on February 24th 2016, and was responsible for monitoring radio traffic. Therefore, I was not an active participant in the eviction at 36 Iris Drive in Bailey. However, I was in a unique position to hear all radio traffic and follow how the eviction was handled. Prior to that day, I had instructed that none of our deputies were to enter Wirth's residence under any circumstances. There were many other options that would not have put our deputies at risk. It was a shock to hear the residence had been breached, and worse to hear the results.

Paid for by Monte Gore for Sheriff
www.MonteGoreforSheriff.com Info@MonteGoreforSheriff.com
Contradictory statements have been made to the press by others since that tragic day, blurring the truth and deflecting responsibility. I believe the Office of Sheriff requires accountability to the community. I believe the Office of Sheriff requires leadership embracing honor, truthfulness, integrity, and transparency.
---
Sunday, March 11, 2018 12:00 AM
PARK COUNTY, Colo. (CBS4) – A former Park County Sheriff's sergeant has settled a lawsuit with the sheriff's office after he was demoted following a shootout that killed Cpl. Nate Carrigan.
On Saturday, Welles Tonjes sent a tell-all letter to CBS4 saying:
---
Friday, March 9, 2018 11:56 AM
In press release, ex-deputy puts blame for Deputy Carrigan's death squarely on Sheriff Wegener. According to Tonjes, Carrigan and Martin Wirth would still be alive if plans were followed.
The full article will be posted when it is fully published by the Flume next week March the according the the article.
---
Thursday, February 15, 2018 12:00 AM
News conference adds no new information in Maggie Long case.
---
Saturday, February 3, 2018 12:15 PM
The Flume Editorial by Walter L. Newton, Editor discussed the current lack of communication and transparency from the Park County Sheriff's office. I agree and commit as Sheriff to deliver honest, clear and timely communication to the citizens of Park County.
---
Friday, January 12, 2018 12:00 AM
Interviews, audio recordings and witnesses may clear up some confusion.
---
Friday, January 5, 2018 4:49 PM
Caucus Voter Affiliation Deadline is Monday January 8th.
Having trouble viewing this email? View it as a Web page.

News Release

MEDIA CONTACT: (303) 860-6903
Lynn Bartels
lynn.bartels@sos.state.co.us


Caucus voter affiliation deadline is Monday


DENVER, Jan. 5, 2018 -- Monday is the deadline to affiliate for Coloradans who want to participate in the Republican or Democrat precinct caucuses. Voters must be affiliated to participate.

Caucuses, which are basically neighborhood meetings, are the first step in nominating candidates for the 2018 election. Both parties will caucus on March 6. At the caucuses, delegates that will attend the county, legislative, congressional districts and state assemblies will be chosen.

"This is really a crucial step in our democratic process," Colorado Secretary of State Wayne Williams said.

"At some assemblies, candidates don't get enough support from delegates to get on the ballot and their quest for office is over. In counties with lopsided voter registration, such as heavily Democratic Denver County or heavily Republican El Paso County, a group of delegates choose a single primary candidate who likely will be the winner in the general election."

The caucus route is one way for candidates to get on the Republican and Democratic ballots for the June 26 primary. In past years, more than 90 percent of candidates on the primary ballot were chosen through the caucus route. A small minority choose instead to petition their way onto the ballot by collecting a certain number of valid voter signatures from members of their own party.

To register to vote or change registration information online, go to govotecolorado.com or text "CO" to "2Vote". Coloradans also can register or change registration information by appearing in person at their county clerk's offices.

Of note: Although unaffiliated voters may now participate in the primary election without declaring to be a Republican or Democrat, they cannot participate in caucuses unless they register with the party 60 days in advance.

Information on where to caucus will be available on Republican and Democratic party websites.
---
Friday, December 22, 2017 12:00 PM
Home
Free Content
District Attorney will not release any records on Maggie Long case
"Disclosure would be contrary to public interest"
---
Friday, December 22, 2017 11:00 AM
County News: Sheriff requests a quarter million dollars in salary increases for sheriff's employees
---
Friday, December 15, 2017 12:00 AM
It's been almost two weeks since missing Platte Canyon High School student, Maggie Long, was found dead in her family home in Bailey. There had been a fire at the house Dec. 1, and Park County Sheriff's Office, Platte Canyon Fire Protection District and the Elk Creek Fire Protection District were called to the scene.
Park County Undersheriff David Wohlers, in a statement released Saturday, Dec. 2, on the PCSO Facebook page, said, "On-scene investigation is wrapped up. Cause and origin of the fire is inconclusive … Still no sign of her, no body at the fire scene."
The 11th Judicial District issued a gag order Monday, Dec. 4, to all involved agencies, and since that time, there has been little information released directly by law enforcement.
---
Tuesday, November 28, 2017 10:00 AM
Park County Sheriff Fred Wegener, facing lawsuits and criticism following a shootout last year in Bailey that left one of his deputies dead, says he will not run for re-election next year after nearly 20 years in office.
---
Sunday, November 26, 2017 10:00 AM
Former Park County Undersheriff Monte Gore, who resigned his post after a 2016 shootout that left a suspect and a deputy dead, is now running to replace his former boss next year.
---
Saturday, October 7, 2017 2:47 PM
At 10:15 AM Saturday October 7th, on the steps of the Old Courthouse in Fairplay, Monte Gore of Fairplay Colorado announced He will run for Park County Sheriff in the 2018 election.
Monte is the first sheriff candidate to announce as a registered Republican.
---
Friday, December 9, 2011 2:17 PM
Park County Officers Martin and Brown Reprimanded plus Internal Affairs Investigation
Posted: Friday, December 9, 2011 3:22 pm
Mike Potter, Staff Writer | 1 comment
An internal affairs investigation conducted by the Park County Sheriff's Office found that, among other things, a Summit County Sheriff's deputy living near Como was given special treatment during an investigation into an alleged domestic violence incident that occurred on Nov. 21.
Written reprimands were issued to Kolby Martin, a deputy with the Park County Sheriff's Office, and to Michael Brown, who was demoted from the rank of master sergeant to deputy with the Park County Sheriff's Office following the outcome of the investigation.
The 20-page internal affairs investigation, released by the Park County Sheriff's Office after a criminal justice records request from The Flume, details the accounts of an incident that began around 5:30 a.m. on Nov. 21 involving Summit County Deputy Sylvia Simms and her husband, Dallas Simms. (See the internal affairs report at theflume.com.)
During that incident, Sylvia Simms allegedly drew her gun and pointed it or waved it at Como resident Doug Bothwell, who had given Dallas Simms a ride home early that morning after his car had broken down. During that alleged incident, Bothwell said that Sylvia Simms struck Dallas Simms with a flashlight.
The conclusion of the internal affairs investigation includes a list of concerns that were raised during interviews with the deputies conducted by Park County Detective Lieutenant Sven Bonnelycke.
"During this investigation, it became clear that appropriate protocols, particularly matters pertaining to safety, have not been followed while investigating a Domestic Violence case," said the report.
Those concerns included protocols that call for alleged victims to be separated following the reporting of an incident, not locating a firearm that was alleged to be involved in the incident, not recognizing the need for the collection of certain evidence, not speaking to all the witnesses, and trying to discredit a witness.
In an e-mailed statement to The Flume, Park County Undersheriff Monte Gore, who called for the internal affairs investigation, said he was disappointed by the actions of the responding officers.
"After a comprehensive review of the Internal Affairs Investigation, we feel that the Summit County deputy should have been arrested," he said. "A 20-page affidavit has been filed with the [District Attorney's Office] for the arrest of the Summit County deputy."
The affidavit filed with the District Attorney's Office wasn't available by press time.
The investigation
The internal affairs investigation goes into detail about the alleged incident that occurred on Nov. 21.
The incident was first reported by Bothwell.
The internal affairs investigation redacted Bothwell's name, but Bothwell had previously contacted The Flume and was quoted in a Nov. 25 article about the incident.
According to the internal affairs investigation report, Martin and Brown responded to the incident.
During his interview with Bonnelycke, Brown reported that Sylvia Simms said there was no gun involved and Sylvia Simms never struck her husband, despite what Bothwell reported.
"Brown advised that he did not see any indication of an assault on [Sylvia Simms]," said the investigation report. "Brown advised when he looked over Dallas, [he] observed no sign of Dallas being struck in the face with a flashlight. He did not observe bruising, contusion or blood indicating a struggle had occurred."
Brown told Bonnelycke that he had not spoken to Bothwell at the incident, that Martin had taken a report from Bothwell.
When Bonnelycke confronted Brown with Bothwell's statement, Brown said after reading it he would have given the case "a little more consideration."
Bonnelycke wrote in his report that it was troubling to him that the two deputies worked to discredit Bothwell.
According to the investigation report, Brown told Bonnelycke that he didn't trust Bothwell's statement.
When questioned about Bothwell's allegation that Sylvia Simms left the couple's two children home alone, Brown said he was told by Sylvia Simms that she was home with the kids the entire night.
When Bonnelycke questioned Brown about a later admittance by Sylvia Simms that she had, in fact, had a gun during the incident, Brown said that he thought she felt she was in trouble, and lied to protect herself.
"Brown was not happy with what she did and that he gave her the benefit of doubt as a law enforcement officer to a point," said the investigation report.
During the interview with Martin, Bonnelycke was told that the deputy complied with his supervisor's orders during the case, even though he felt that an arrest should have been made during the incident.
According to the investigation report, Martin said that during a conversation with Bothwell, Martin explained that no arrest was made because Brown felt that there was not enough evidence to support the arrest.
"Deputy Martin advised me [Bonnelycke] that he believed that they should have arrested Sylvia for Felony Menacing, Domestic Violence and Third Degree Assault," said the investigation report.
Following a Nov. 21 meeting with Gore in which the two deputies were ordered to get an arrest warrant, Brown decided to instead give the information to the District Attorney's Office.
According to the internal affairs investigation report, neither did that.
"Martin and ... Brown admitted they were directed by Undersheriff Gore to obtain a warrant, which simply did not occur," it said.


Walter L. Newton - Editor, The Flume
Office 303-838-4423 Ext. 10
Home 303-838-2058
editor@theflume.com; www.theflume.com
P.O. Box 460, 5138 Park County Road 64, Bailey, CO 80421
Follow us on Twitter @FairplayFlume
Read the paper online www.theflume.com